Visit the Birthplace
of your NSX
INSIDER EXPERIENCE ENDING OCTOBER 2022
As we near the final production date of the NSX Type S,
the NSX Insider Experience tours will come to an end October, 2022.
Reservations for future NSX Insider Experiences are limited.
If interested, you may add your name to the waitlist.
The NSX Insider Experience is exclusive to buyers of the second-generation NSX. As an NSX owner, you are part of an inner circle granted access to this personalized behind-the-scenes experience.
LEAVE ALL THE DETAILS TO US
A personal host will guide you through this fascinating experience of learning and discovery, and transfer you from venue to venue in an Acura MDX.

Choose from a menu of options to craft the tour that suits your fancy, from seeing your very own NSX in the final build stages to watching mechanical artisans hand-assemble NSX engines and feeling NSX come to life in an adrenaline-inducing performance drive.
Click on the modules below to learn more.
LEGENDARY SUPERCAR. SIGNATURE SERVICE.
An Acura NSX Concierge is at your service to take care of the details, from making your travel arrangements, including hotel, ground transportation, restaurant reservations and entertainment options.
Your one-on-one experience continues upon your arrival in Columbus, Ohio, where your host will escort you through each exclusive element of your custom-crafted tour package and carry you from venue to venue in an Acura MDX.
Read what our customers are saying about their NSX Insider Experience.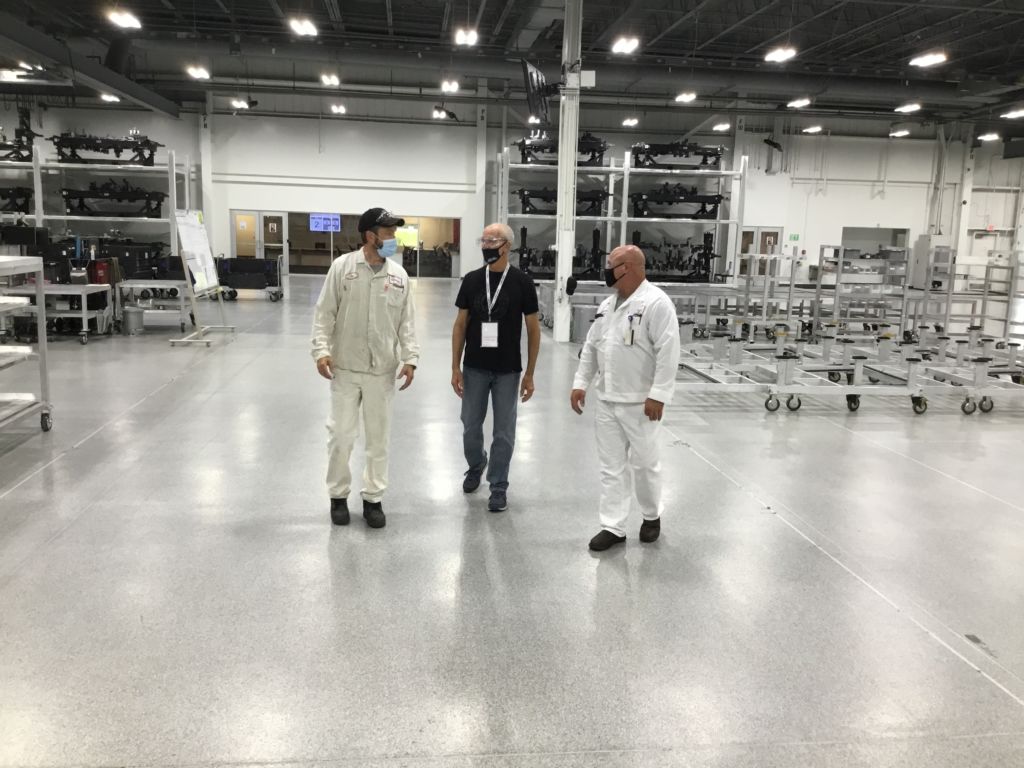 Taking the tour really lets you see the pride and care taken in the manufacture of your NSX.
2021 Novelle Blue Pearl NSX Owner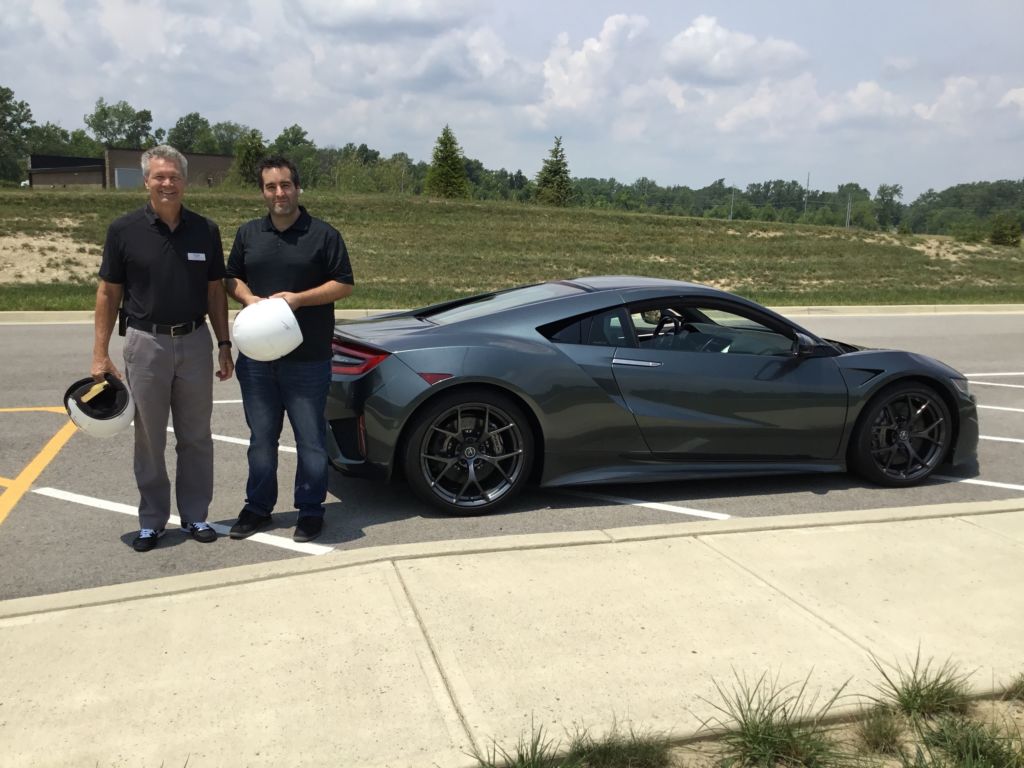 This was well worth the time and expense. Seeing a world class factory in person was very cool and the track time was amazing.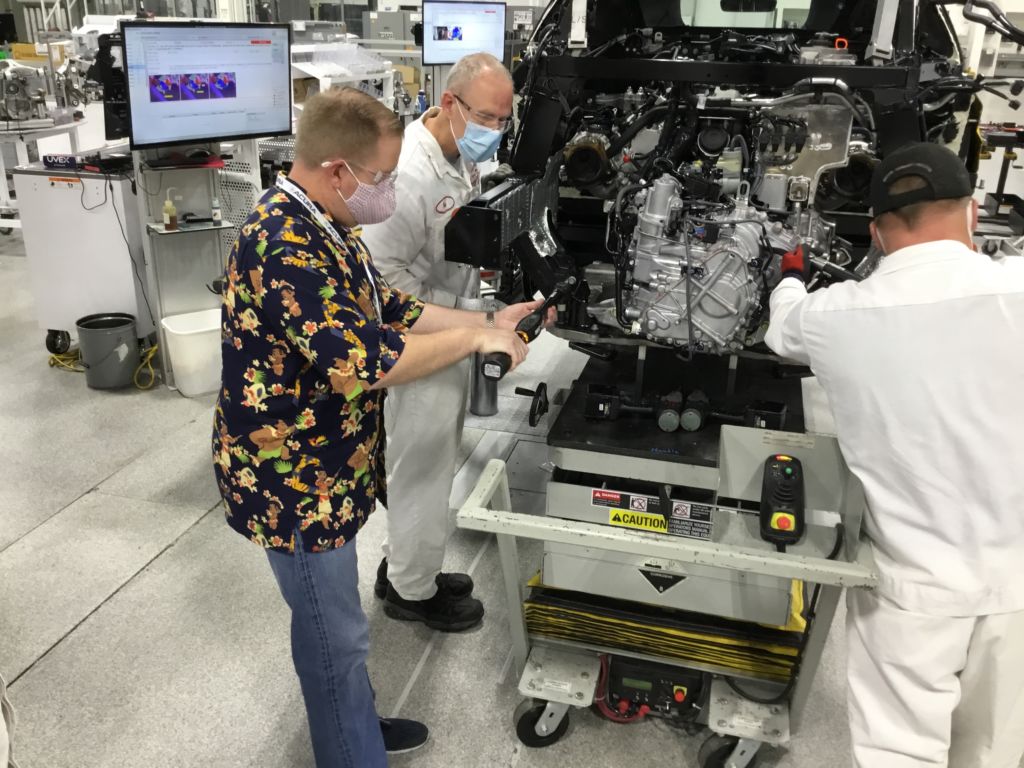 This is something every NSX customer should do. It's one thing to experience how amazing the car is, but to see the facilities and meet the staff who build it is an amazing experience. The pride they show in their work is obvious, and makes me appreciate my NSX that much more now that I've met them.
What an excellent experience. All the people in the factory were awesome. They take so much pride in their work. What a great culture.
2020 Nouvelle Blue Pearl NSX Owner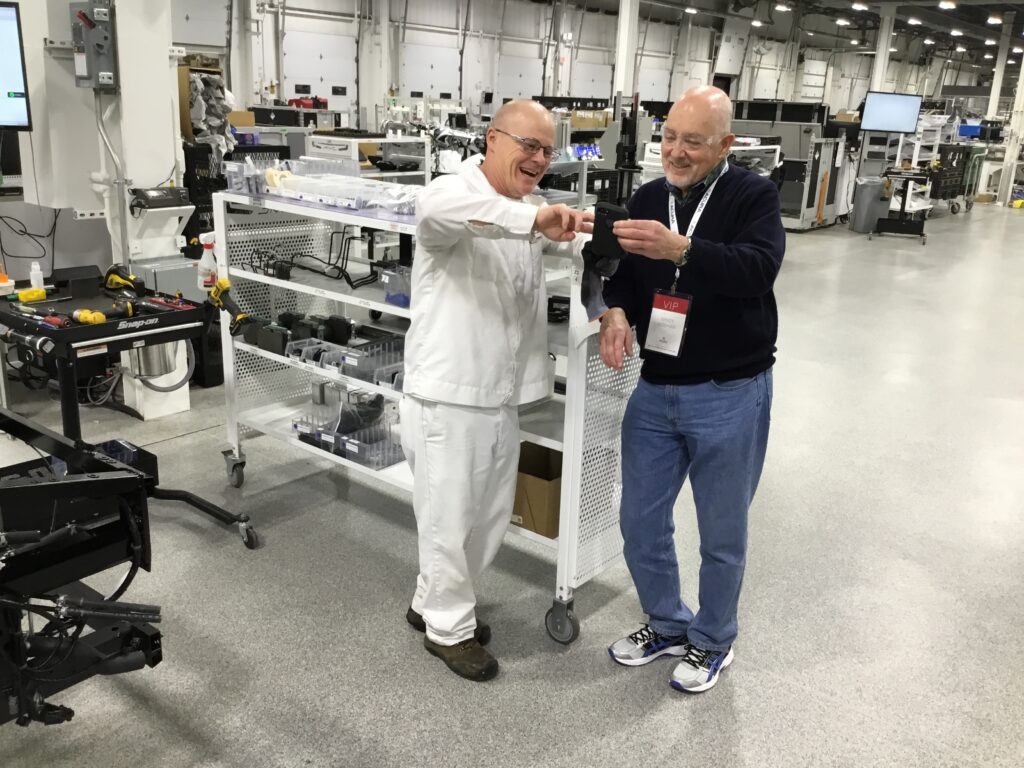 Excellent service. Great to see how this excellent super car comes to life from the bin of small aluminum parts to the final "shakedown". The associates were very informative and willing to take their time to explain every aspect of their particular function.
2017 Casino White Pearl NSX Owner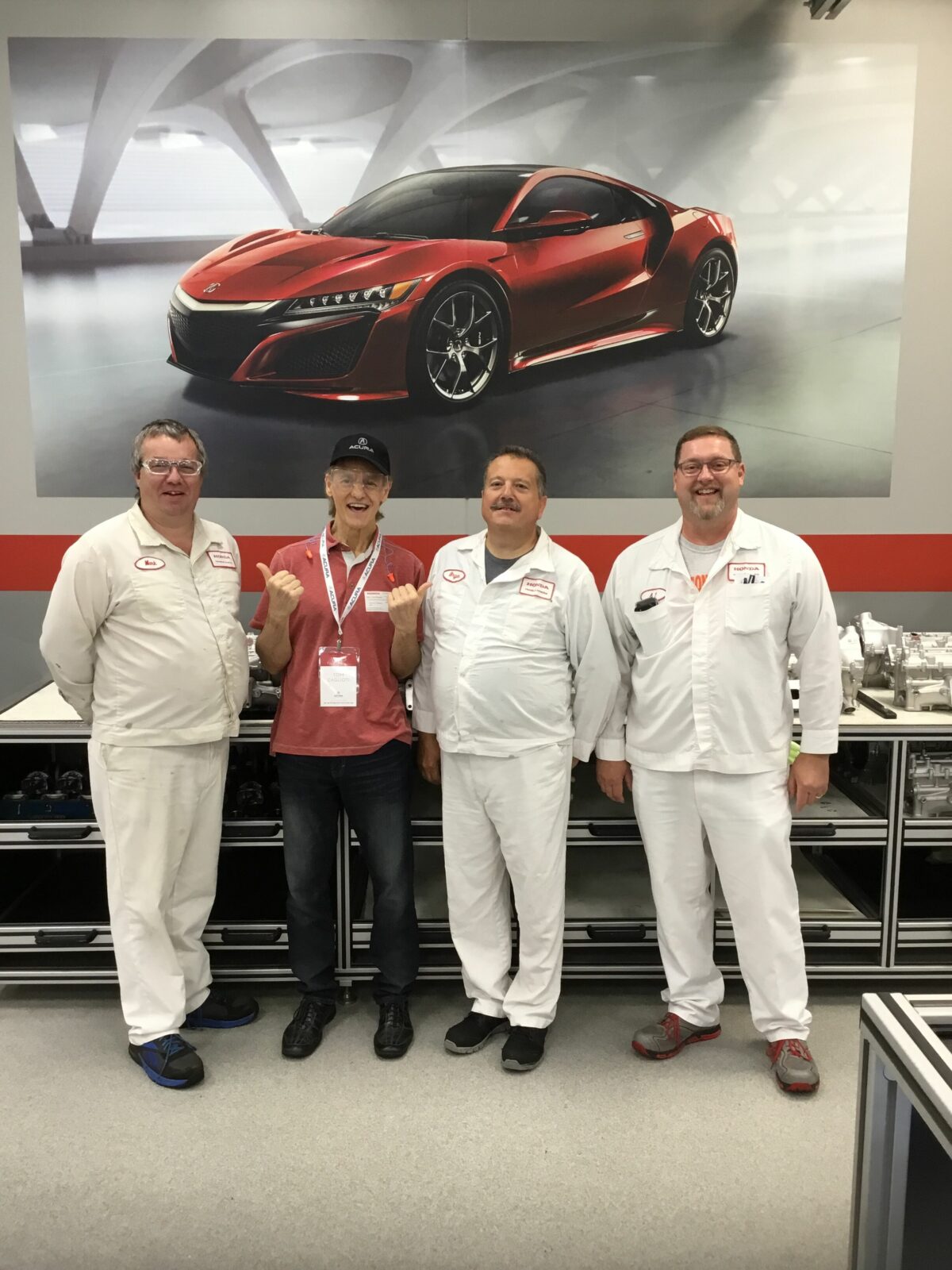 Anyone, whether an NSX owner or not, should take this amazing tour! They will see what true quality and advanced technology looks like!
2019 Thermal Orange NSX Owner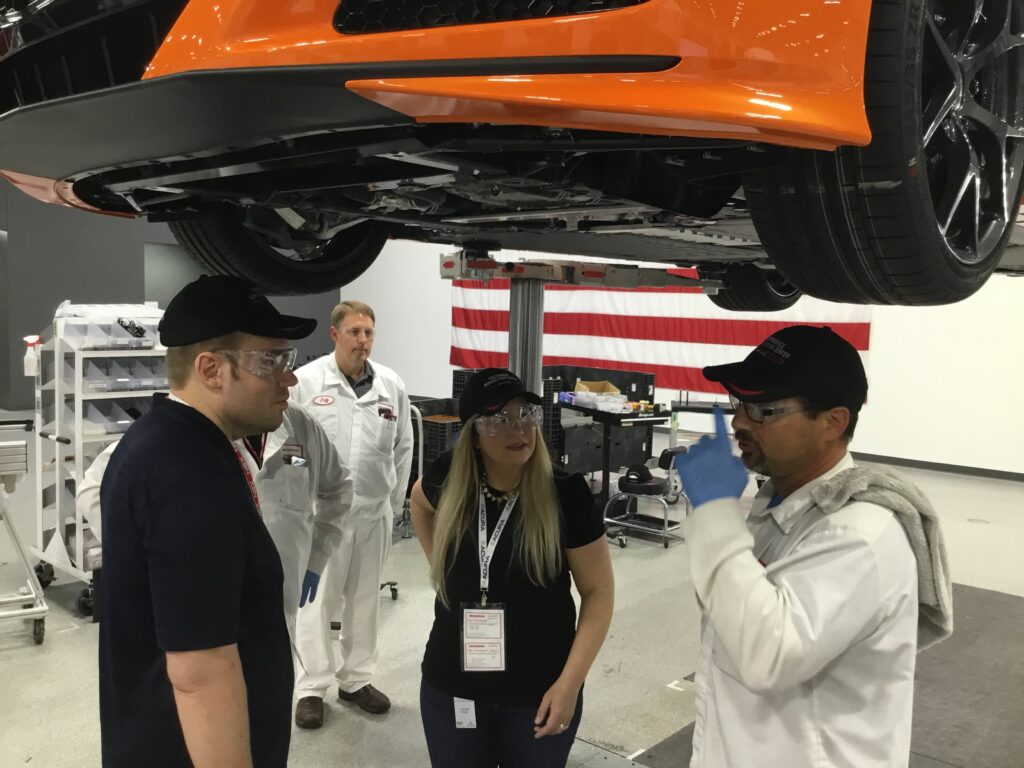 Amazing experience and all the staff were super friendly and welcoming. Best driving experience I've had. I would recommend it to anyone. Unforgettable experience.
2019 Berlina Black NSX Owner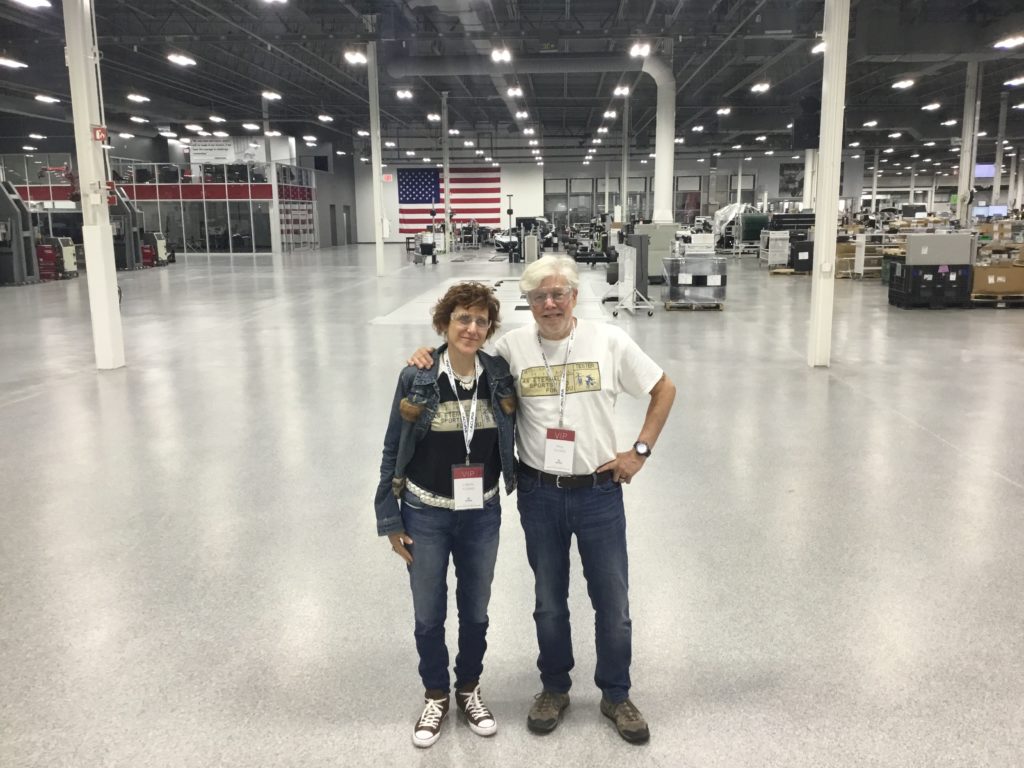 This experience was beyond my expectations. Both myself and my wife raised our levels of skill and confindence in driving the NSX – both quickly and daily traffic. Seeing the car go together from the very start was amazing. It must be the safest supercar on the road.
2017 Berlina Black NSX Owner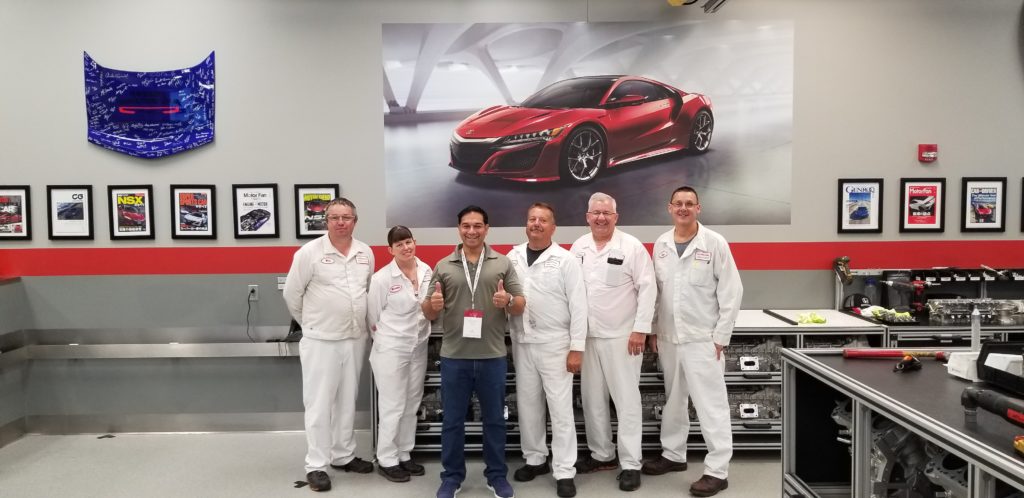 Buying a car like the NSX, I believe it is important to understand it's limits, to be a safer driver. This allows you to do that in a controlled environment. This is a first class experience and would highly recommend.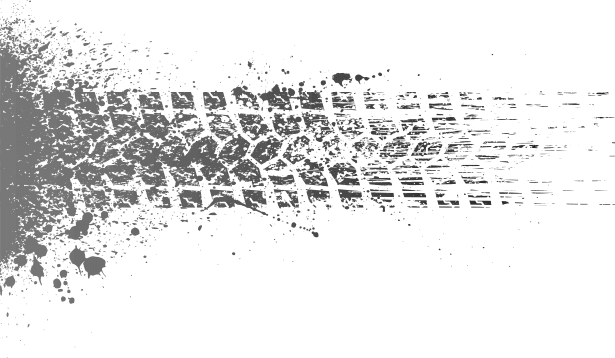 Can I bring a guest with me? What is the cost?
Yes. The cost varies by tour options and can be found on the tour pricing page.
If you would like to bring more than one guest, please reach out to the concierge directly at [email protected].
Is there an age requirement for tour guests?
Yes. Each guest must be 14 years of age or older.
Is there a dress code for the tour?
We recommend comfortable closed-toe shoes (no heels or sandals) with socks that cover both the foot and heel. You will likely be on your feet for most of the day as you tour the Honda Heritage Center, Performance Manufacturing Center and Anna Engine Plant. Also, closed-toe shoes will be required to drive at the Acura Proving Grounds. Pants are required for all tours; jeans are perfectly acceptable. No skirts or shorts please.
What identification do I need to bring?
Please bring your government-issued ID, such as your driver's license or a passport.
Can I choose my own hotel, flight and transport?
Yes. Your personal Acura Concierge will be happy to assist you in making any arrangements. We've recommended Le Méridien, The Joseph for its proximity to many of Columbus' best restaurants and retail stores. However, you are free to stay wherever you would prefer. You may also book your own flights, as well as ground transportation to and from the airport. We will provide transportation to and from Marysville and Anna in an Acura MDX as part of the tour package.
I live in Columbus so I do not need to book a flight or hotel. Can I drive to the plants myself?
Your Acura Host will pick you up in an Acura MDX at your preferred location on the day of your tour. Your Concierge will confirm these details with you.
Can we take photographs inside the venues?
For security reasons, we do not allow personal cameras inside the plants or at the Acura Proving Grounds. There will be specific locations at each venue where your Acura Host will be able to take photos of you and your guest throughout the experience and we will share those photos at the conclusion of the tour.
Can my guest take part in the performance drive?
Yes. There is an additional cost for a second driver. Please make sure you advise your Concierge if you would like to pursue this option. All drivers must have a valid driver's license.
What is the travel time to Marysville (home of the Honda Heritage Center and Performance Manufacturing Center) from John Glenn Columbus International Airport?
Marysville is approximately 1 hour from John Glenn Columbus International Airport and is also about 1 hour from downtown Columbus.
What is the travel time to Anna (home of the Anna Engine Plant) from downtown Columbus?
Anna is approximately 90 minutes from downtown Columbus.
What is the travel time between Anna from Marysville?
Anna and Marysville are approximately 45 minutes apart.
Are the different plants and the Acura Proving Grounds close to each other?
The Acura Proving Grounds are approximately 15 minutes from the Performance Manufacturing Center. The Acura Proving Grounds are located in East Liberty, Ohio.
Can I change my tour options upon arrival?
Unfortunately, we are not able to accommodate on-site changes. Tours are pre-booked with the plants and track.
My NSX has already been delivered. Can I participate in the plant tour?
My NSX has been ordered but not yet delivered. Can I participate in the plant tour?
Yes! As someone who has placed an order for an NSX, you are eligible to participate in this experience. We also offer an option to see your NSX on the production line. More information is available on nsxinsiderexperience.com.
Can I contact my Concierge at any time?
Your Concierge is available 9:00 A.M.– 6:00 P.M., PST, Monday to Friday. You may also reach your Acura Concierge at any time at [email protected].
Will there be other guests on the tour with me?
Your tour is customized just for you. Your personal Acura Host will escort you through the tour.
I've submitted my tour preferences but would like to change them. Can I do this?
Yes, please contact your Concierge right away and they will do their best to make adjustments, if available. Due to scheduling and availability at each of the locations, the more we know in advance, the better luck we will have in making such adjustments.
If it rains or snows on the day of my drive experience, can I still drive?
Case by case basis, depending on weather. Want to ensure safety first.
Will a deposit be required for booking the NSX Insider Experience?
Yes. A deposit of 50% of your tour cost will be required at the time of booking. Your Acura Concierge will contact you to collect payment.
Which form of payment will be accepted for the deposit?
The preferred method of payment is credit card.
When will the final balance be due?
Final payment will be due one week before your travel date to Columbus. This will include the remaining 50% balance of your tour package, plus any travel fees booked on your behalf. This is also payable via credit card, wire transfer or certified check.
What if I have to cancel?
If you cancel within 30 days of your tour, you will lose your deposit and any cancellation fees associated with your flights.
What is there to do in my downtime in Columbus?
Your Acura Concierge will provide a plethora of options for you while in Columbus, including dining, shopping, entertainment and exercise options.
What is the length of the program each day?
Your Acura Host will pick you up the morning of your tour at 8:00 A.M. Depending on your chosen tour options, your day could end as early as 1:00 P.M. (arriving in Columbus by 2:00 P.M.) or as late as 5:30 P.M. (arriving in Columbus by 6:30 P.M.).
Acura will provide your Welcome Night dinner. Your lunch on tour dates is also provided – we will provide you with a list of options in advance. Breakfast and any additional dinners will be on your own.
Am I able to refer a friend to book the NSX Insider Experience?
At this time, this tour experience is only open to purchasers of the second-generation Acura NSX.
Am I able to extend my stay in Columbus?
Of course! Your Acura Concierge can provide you with things to do around Columbus. There are many great things to see and do around Columbus throughout the year!
Do tours run on the weekends?
No, the plants are only open Monday-Friday; however, you can arrive in Columbus over a weekend.
Do I need to have had track driving experience to take part in the Acura Proving Grounds Experience?
Absolutely not! The Acura Proving Grounds Experience will be customized to each driver's skill level.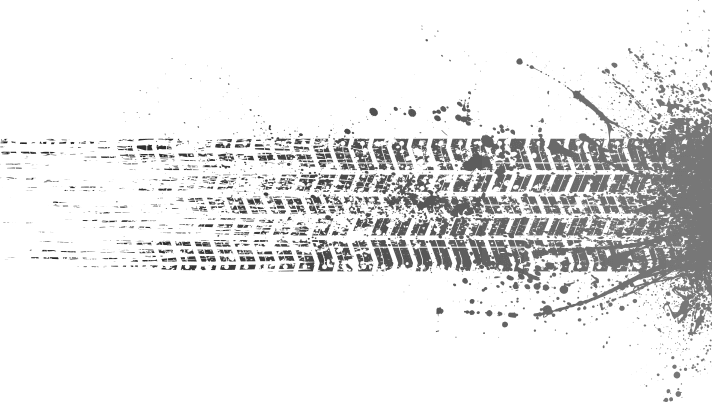 Leave all the details to us.